December Down but Not Out: Seasonality Trends Point to Market Recovery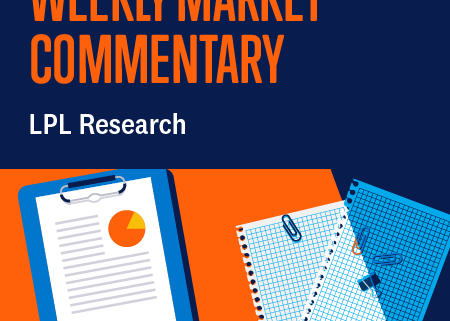 Despite the S&P 500 Index starting December with five consecutive days of losses, we think December is down but not out. December often starts slow but historically has been a strong month. There are also some potentially supportive seasonal patterns ahead, such as the Santa Claus Rally, the outlook for January following down years, and the third year of the presidential cycle. 'Tis the season, and this week LPL Research looks at some important seasonal patterns as the year winds down.
Slow Start to December Not Yet Bucking the Positive Seasonal Pattern
December is off to a rough start, and so far it's not living up to its seasonal reputation of being one of the best months for equity market returns. Since 1950, the S&P 500 has historically produced average returns of just over 1.5% and has finished the month in positive territory 75% of the time. While the index is down as of Friday, December 9, seasonality trends point to a potential second-half recovery during the month.
As seen in Figure 1, despite the positive seasonal pattern, it's not unusual for December to get off to a slow start. In fact, we're near the low point for the historical pattern, and most gains have typically taken place in the second half of the month, although there's a lot of variation from year to year.
Figure 1 also highlights some added factors that apply specifically to this year, such as how December looks when we're down year to date as we enter the month and what December looks like after a positive November. Both factors temper our enthusiasm for December strength, but December remains above average even when taking these factors into account.
Santa's Helper
Part of the strong second-half December story is attributable to the market's tendency to advance during the final trading days of the year and early into the next. This unique seasonal pattern was first discovered by Yale Hirsch in 1972. Hirsch, creator of the Stock Trader's Almanac, termed the period the "Santa Claus Rally", which he specifically defined as the last five trading days of the year plus the first two trading days of the new year. The period of just seven trading days is very short, but has historically provided a return comparable to a strong month [Figure 2]. It's not unusual for stocks to move up (or down) more than one percent even in a single day, but having solid numbers over such a long time period may be meaningful. In any given year, it's going to be more important factors, such as the economy and the policy environment, that drive returns. However, behind the scenes this period of relatively light volume does seem to provide added support.
Retail Stocks Not as Resilient as Consumers
If the consumer has remained resilient, as evidenced by economic data and corporate sales, public retailer equities have been anything but. The retailers are down 29% to date, compared to the broad S&P 1500 and S&P 500—both down 14% year to date. Retailing is typically a competitive, lower margin business, and stocks typically trade on earnings expectations. Rolling forward (next 12 months) EPS estimates for the industry group have declined about 11% from the start of the year [Figure 3], and current year quarterly earnings have been a mixed bag of positive surprises and newsworthy stumbles. "Big Box" stores (aka multiline retail) have seen some of the larger earnings misses, as changing consumer behaviors coming out of the pandemic left stores with bloated inventories of pandemic favorites such as exercise bikes and patio furniture.
An Early Happy New Year
We're now in the homestretch of 2022. It's been a challenging year for both stocks and bonds as inflation soared, interest rates climbed, and the Federal Reserve executed one of its most aggressive rate hike campaigns on record. Ultimately, the economy, earnings, and the policy environment drive stock returns, not seasonal factors, but seasonals provide an important backdrop. And right now, the outlook based solely on seasonals is about as supportive as it gets (For our broader market view of 2023, see our Outlook 2023: Finding Balance). But even if only a potential small tailwind, we hope the seasonal outlook helps us put a rough year behind us and gives us reason to say an early Happy New Year.
Adam Turnquist, CMT, Chief Technical Strategist, LPL Financial
Barry Gilbert, PhD, CFA, Asset Allocation Strategist, LPL Financial
https://www.rwmfinancialgroup.com/wp-content/uploads/2023/01/weekly-market-commentary-december-12.png
450
450
Amanda Rogers
https://www.rwmfinancialgroup.com/wp-content/uploads/2022/09/RWM_Brand-Identity_RGB_Wordmark_Color-1030x883.png
Amanda Rogers
2022-12-12 15:26:00
2023-01-04 15:28:18
December Down but Not Out: Seasonality Trends Point to Market Recovery